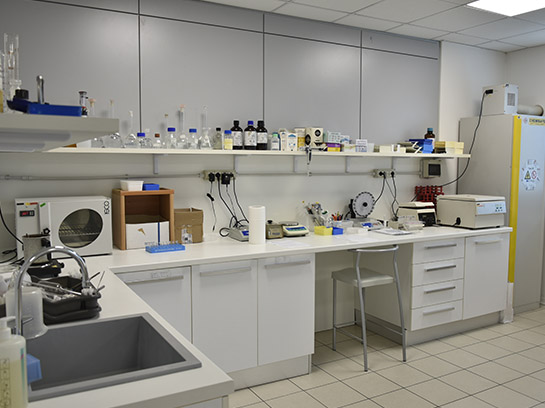 For.Med.Lab. is a spin-off of the University of Macerata. It was set up on 1 March 2018 as a development of the University Forensic Toxicological Chemistry Laboratory.
The laboratory is entrusted by the Marche Region with substance misuse testing and screening for workers assigned to safety critical roles (decision taken by the Marche Region council n. 603 of 04/14/2009). It is on the Roll of highly qualified laboratories of the Ministry of University and Research (L46 of 17/2/1982).
Our goal is to offer a service the quality of which is ensured by the skills, competency and professionalism of the whole team. Technical and administrative staff are available to provide information about and/or to meet needs for the services illustrated in the Service Charter.
Our Instruments and Equipment
GAS CHROMATOGRAPH WITH MASS/MASS SPECTROMETER (ION TRAP detector)
GAS CHROMATOGRAPH WITH MASS SPECTROMETER (QUADRUPLE DETECTOR)
HIGH RESOLUTION LIQUID CHROMATOGRAPHY WITH MASS SPECTROMETER
GAS CHROMATOGRAPHS (FID flame ionization detector)
LIQUID CHROMATOGRAPH – HPLC High-performance liquid chromatography (UV-Vis and FLUORIMETER)
AUTOMATIC SAMPLING FOR ELISA SCREENING
SPETROPHOTOMETER
OPTICAL MICROSCOPES with camera
Our buildings
The new buildings have made it possible to improve our services. The large bright spaces of the laboratory are located on the ground floor. The structure has ample parking and is situated near the bus stop at "Sforzacosta: Industrial area" "Sforzacosta – Zona industriale". Good transport links mean that For.Med.Lab. is accessible and easy to reach. The renovated, modern premises have allowed us to expand the provision for testing and screening and all the other services offered to individuals and companies. The new centre for blood tests and the clinic for medical appointments are also available to companies and professionals who request them. The building also houses a large library available to staff, researchers and students undertaking internships and training.